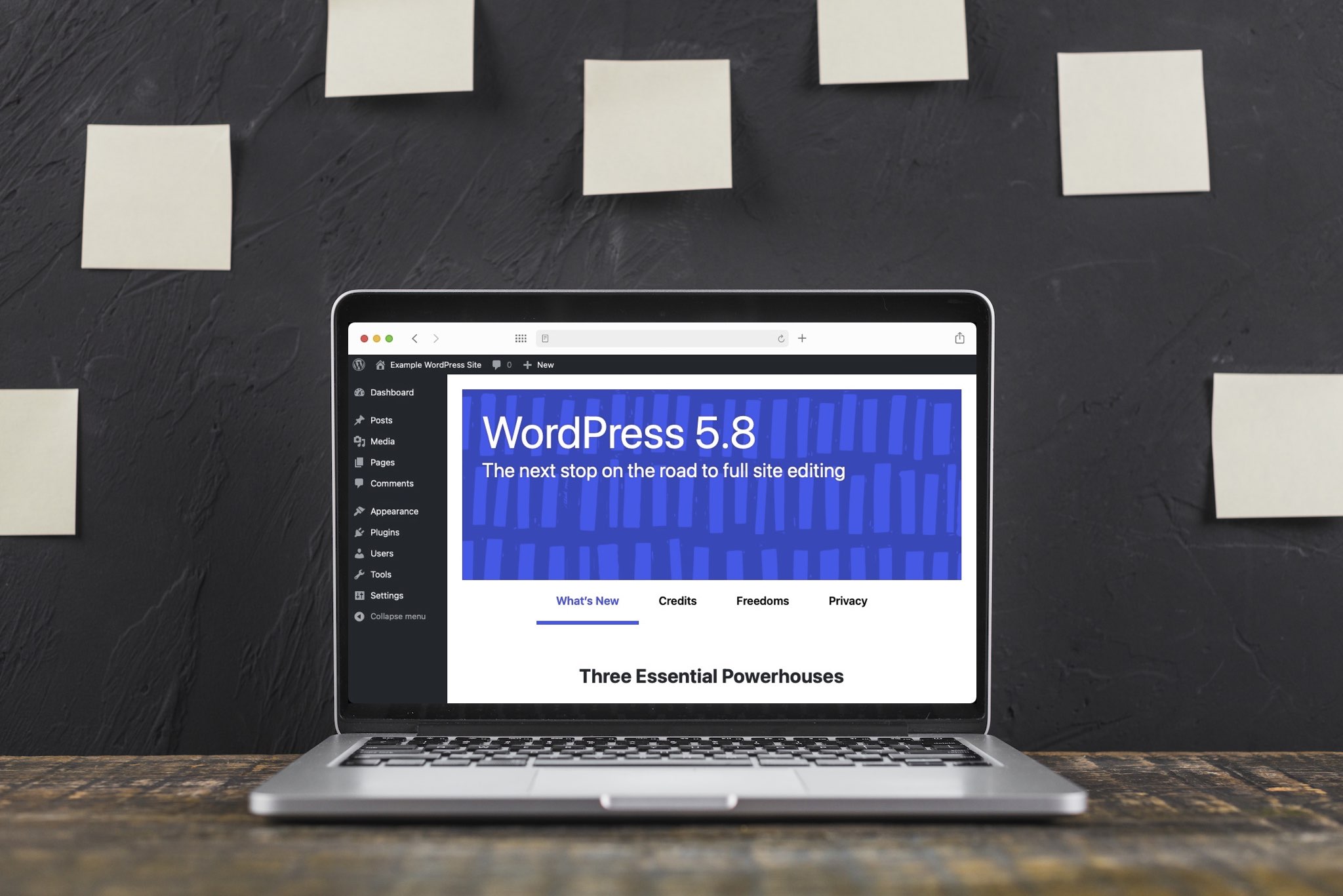 What you need to know:

WordPress 5.8 "Tatum" introduces several noteworthy features such as new block-based widgets, support for WebP images, a new Template Editor, and a theme.json file. In addition, the second major update for 2021 brings improvements to the WordPress Block Editor and also drops support for Internet Explorer 11.
WordPress 5.8 "Tatum" is the second major update for the WordPress content management system in 2021. Named after the legendary Jazz pianist Art Tatum, the release brings several new features and also packs a few quality-of-life improvements. In this article, we'll provide an overview of what's new in WordPress 5.8 "Tatum", so you'll know what to expect once you update your website.
Tip:

Don't have a website yet? If so, you are welcome to sign up for our free web hosting plan as it supports WordPress right out of the box. An if you ever require additional performance or advanced functionality, you can always upgrade to one of our premier WordPress hosting packages.
Table of Contents
What's New in WordPress 5.8 Tatum?
While WordPress 5.8 "Tatum" is not groundbreaking, it does move the CMS along the path to Full Site Editing. In addition, the update brings a few other noteworthy features. We'll discuss these features in a bit more detail below.
Tip:

Full Site Editing is a long-term project at WordPress that aims to allow users to leverage the Block-Based Editor known as Gutenberg to build and customize every aspect of their WordPress site.
WordPress 5.8 "Tatum" Introduces Block-Based Widgets
The Widgets Editor in WordPress 5.8 "Tatum" has been supercharged with support for blocks and its interface has been revamped to be in line with the Gutenberg interface. So, now you can use the blocks you know and love from the Post/Page Editor right inside your widget areas. What is more, classic widgets and block-based widgets can coexist without any issues and you can add widgets of both types to the same widget area.
WebP Support Gets Added to WordPress 5.8 "Tatum"
At long last, WordPress adds native support for WebP images. As such, starting from WordPress 5.8 "Tatum", you can upload images that use the WebPextension without the need for additional compatibility plugins.
Developed by Google for web use, WebP is superior to PNG and JPEG as it offers the same image quality, but reduces the image size by roughly 30%. So, if you decide to convert your images to WebP, you are likely to see a noticeable increase in your site's loading speed.
WordPress 5.8 Introduces a New Template Editor
One brand new feature that gets unveiled in WordPress 5.8 "Tatum" is the Template Editor. The Template Editor can be accessed through Gutenberg, the WordPress Block Editor, and it allows you to create, set, and customize templates for your posts and pages.
Warning:

If you do not see the Template option, then your theme does not support this functionality.
Once you gain access to the Template Editor, you will see several new Full Site Editing blocks in addition to the regular blocks. These new blocks include Site Logo, Site Title, Post Title, Post Featured Image, Login/Logout, Post Tags, Query Loop, and more.
Block Editor Enhancements in WordPress 5.8 "Tatum"
The addition of the Template Editor is not the only change that was made to the Block Editor in WordPress 5.8 "Tatum". In the next few paragraphs, we will go over some of the other more noteworthy changes.
One fun new addition is the Duotone Filter. Using this filter, you can convert any image into a two-tone masterpiece. This is great if you are looking to add a splash of color to your pages and posts.
Another new feature that shows a lot of promise is the Query Loop block. This is a block that can go through all of your posts and display only those that meet your criteria. What is more, you are in control over what information should be presented from the qualifying posts.
The search functionality in the WordPress block editor was also enhanced in WordPress 5.8 "Tatum". Now, in addition to the regular search results, you will also see block pattern suggestions. These pattern suggestions will improve over time as more blocks and block patterns are added to WordPress.
The last feature that we will highlight is the improved list view. Now, the list view in the Block Editor can better visualize complex layouts containing multiple blocks and block patterns.
WordPress 5.8 Drops Support for IE11
Another noteworthy change in WordPress 5.8 is that Internet Explorer 11 (IE11) is no longer officially supported. So, if any new bugs are found that pertain to this browser, they will not be fixed.
Tip:

If you are still using IE11, we highly recommend updating your browser. You can either opt for Microsoft Edge (the successor to Internet Explorer) or you can go with one of the other modern alternatives.
A New theme.json File Is Included in WordPress 5.8
The last new addition to WordPress 5.8 that we will discuss is the inclusion of a theme.json file. Thanks to this file, theme developers can define colors, control styling, and add presets without having to write tons of CSS code.
Should I Upgrade to WordPress 5.8?
Overall, WordPress 5.8 "Tatum" represents a worthwhile upgrade to all WordPress users thanks to its plethora of new features and improvements. Moreover, it packs multiple security patches and bug fixes which are essential for a website's stability and protection. As such, we recommend updating WordPress to version 5.8 as soon as possible.
Tip:

Although WordPress 5.8 has been thoroughly tested by its developers, it is always a good idea to perform a full site backup before initiating the upgrade process.
Conclusion
WordPress 5.8 "Tatum" represents yet another step towards the ultimate goal of introducing Full Site Editing to WordPress. Thanks to its numerous new features and improvements, this latest version of WordPress is a worthwhile upgrade for every website owner.