If you craft your WordPress website by using Gutenberg, then it is likely that you have thought about working with a block editor-compatible theme.
If that is the case, then you should know that there are numerous WordPress themes that are meant to be a perfect fit for the block editor.
In this article, you will read about the best ones to choose from when working with the block editor.
10 Best WordPress Themes for Gutenberg
If you are new to the world of themes, then read what is a WordPress theme and see how to install and activate themes.
Once you are familiar with the topic, you can browse our list and choose the theme that most fits your needs and requirements.
1. Astra

Astra is a very popular WordPress theme. It is user-friendly, comes with fast-loading speeds, and is fully compatible with the Gutenberg Block Editor.
A great feature of Astra is the included free and premium templates. With them, you can quickly set up the design and layout of your WordPress website without delving into coding or any other type of technical matter.
Furthermore, you can freely use your Gutenberg blocks while Astra is active without sacrificing any functionality and options.
2. Neve

Neve is another very popular WordPress theme that is fully compatible with Gutenberg. It is known for its clean design layouts and its simple-to-use features. Neve is a very versatile solution, as it is suitable for blogs, online stores, and company websites.
Similar to Astra, Neve offers a wide range of site templates, and you can create a beautiful and fully functional website with only a few clicks here and there.
Along with being versatile and compatible with the WordPress block editor, Neve is designed to be very fast, and mobile-friendly.
3. Sydney

Sydney is a modern-looking WordPress theme and comes with great design features and vivid color schemes. Because of its elegant layout and smooth performance, it is widely used for crafting business websites.
This theme comes with numerous settings and customization options that you can work with and is yet easy to use and set up.
As with all other WordPress themes in this list, Sydney is fully compatible with Gutenberg, and you can use all block editor features without any limitations or technical issues.
4. OnePress

OnePress is a versatile WordPress theme that can be a perfect fit for a business website, portfolio pages, and products showcase sites.
OnePress features a responsive design, perfect mobile device compatibility, and advanced customization settings. However, the most intriguing feature of OnePress is the inclusion of custom content blocks that work in perfect harmony with Gutenberg.
With such a combination of features and great Gutenberg compatibility, you get enhanced versatility and yet a responsive and simple-to-use solution for your website.
5. Zakra

Zakra is another great choice, as it is a very versatile theme and has great Gutenberg compatibility.
Zakra features neat color combination palettes, aesthetic graphics, and numerous options you can tweak. Also, Zakra is known for its fast-loading speed and simple setup process.
Zakra includes customization for numerous page elements and comes with a rich library of pre-made templates. Furthermore, this theme is very versatile, and you can use it for building various types of websites – business sites, online stores, portfolios, and blogs.
6. Nisarg

Nisarg is not as popular as the previous entries in our list but is a WordPress theme worth trying out.
Although not as versatile as other themes, Nisarg is perfect for online blogs, as its layout makes reading very easy and comfortable. This theme is a perfect choice for travel blogs, online photo galleries, cooking recipe sites, and various portfolio websites.
With Nisarg you can customize your web page's header, background, and color palettes, and use all Gutenberg features freely, as the theme is fully compatible with the WordPress block editor.
7. Foodica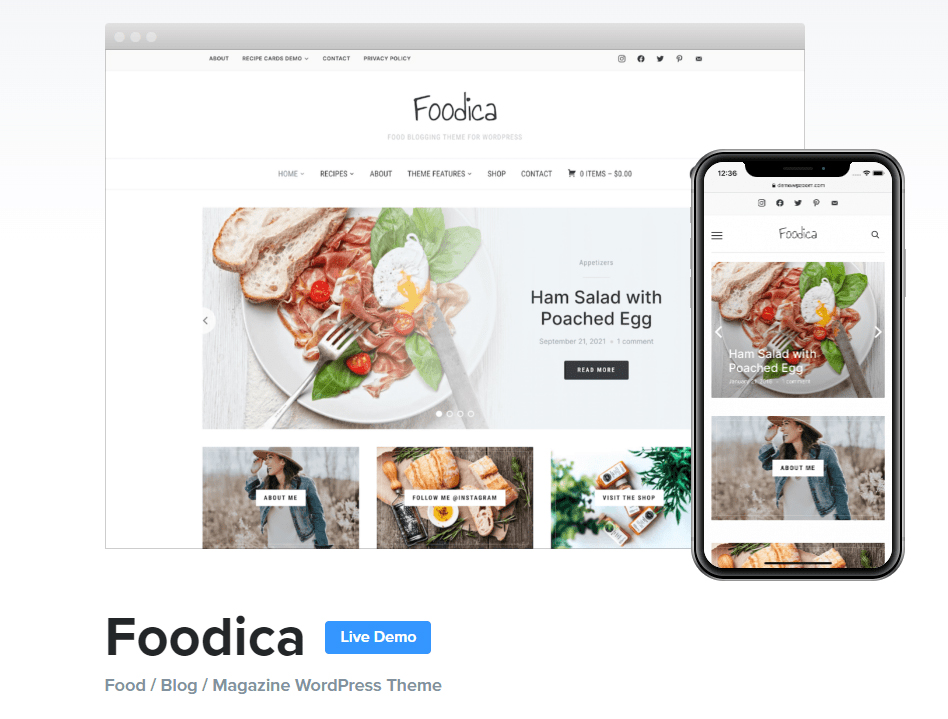 Foodica is a great addition to this list, as it not only works perfectly with Gutenberg but also is very stylish and very feature-rich.
As the name suggests, this theme is the perfect choice for online cooking and recipe websites, as there are recipe cards and index features that make the setup of a cooking website even easier and more comfortable.
Although marketed as a food and cooking-focused WordPress theme, Foodica can also be used for other types of blogs, and visuals-focused websites, because of its beautiful design and layout features and the very effective usage of white space.
Also, along with being fully compatible with Gutenberg, Foodica includes various custom blocks that can become a great addition to your website and expand the options you can use to craft a website that lives up to your preferences and requirements.
8. Maisha

Maisha is a very stylish WordPress theme with an almost monochrome color palette and pop-up colors for buttons and various page sections.
Marketed as a solution for non-profit organizations, Maisha focuses on the minimalistic approach in terms of design but is still feature-rich in terms of settings and customization options.
As with all other themes included in this list, Maisha is compatible with Gutenberg and includes various handy blocks that enhance the site crafting and maintenance process.
9. Hestia

Hestia is a stylish theme specially created for business websites, startup organizations, and professional portfolios. This theme comes with tons of customization options, Gutenberg compatibility, and fast-loading speeds.
Along with being very feature-rich, Hestia also comes with translation-ready functionality, which makes it a perfect fit for crafting multi-language websites.
10. OceanWP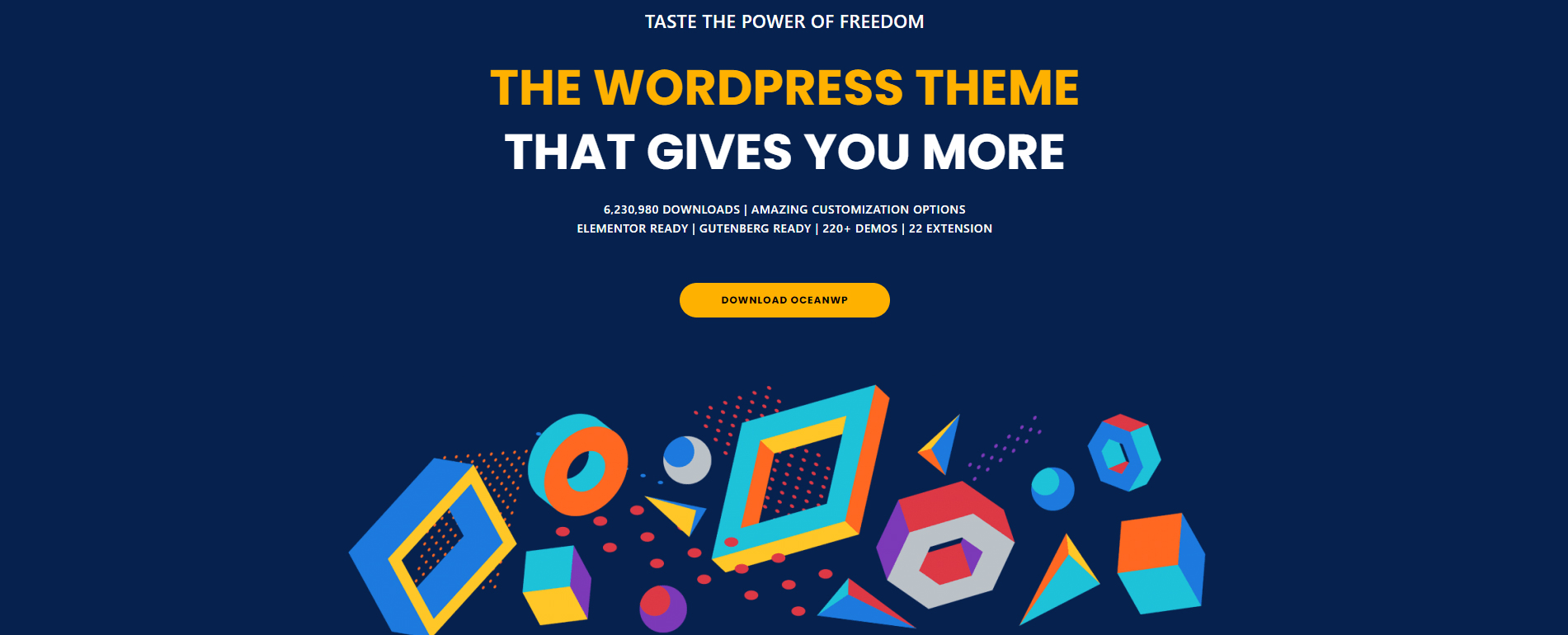 OceanWP is a rather popular WordPress theme, as it is very feature-rich and can be the foundation of various types of websites – business pages, online blogs, and online shops.
This theme supports Gutenberg functionalities and allows you to use the block editor all along with OceanWP's options to craft a beautiful and fully functional website.
Along with the numerous customization options the theme offers, OceanWP is very lightweight and fast.
Conclusion
There are numerous WordPress themes that support Gutenberg and can enhance your customization options, along with the aesthetics of your website.
In this article, we shared the top 10 Gutenberg-friendly WordPress themes that you can try out right away.
Related: