Many types of WordPress websites collect user data. Such examples include membership sites, blogs with user-submitted posts, e-commerce sites, and similar. Such platforms require visitors to register to use the website's full benefits.
However, not all give the possibility to unregister. This might well be an issue, due to two main reasons:
Not giving the option to unregister might violate GDPR rules.
Security-sensitive visitors might avoid using websites that do not offer such options.
However, WordPress allows you to add an unsubscribe/delete account option.
How Can Users Delete Their WordPress Account
By far, the fastest and easiest way to include an account deletion option is by incorporating a dedicated WordPress plugin into your site.
Such a tool can provide everything you need to ensure safe and secure unsubscription and account deletion for your visitors.
To benefit from such an option, you should first install and activate a plugin. Here's how.
Step 1: Open the WordPress Plugins library.
Via your WordPress admin panel, go to Plugins->Add New: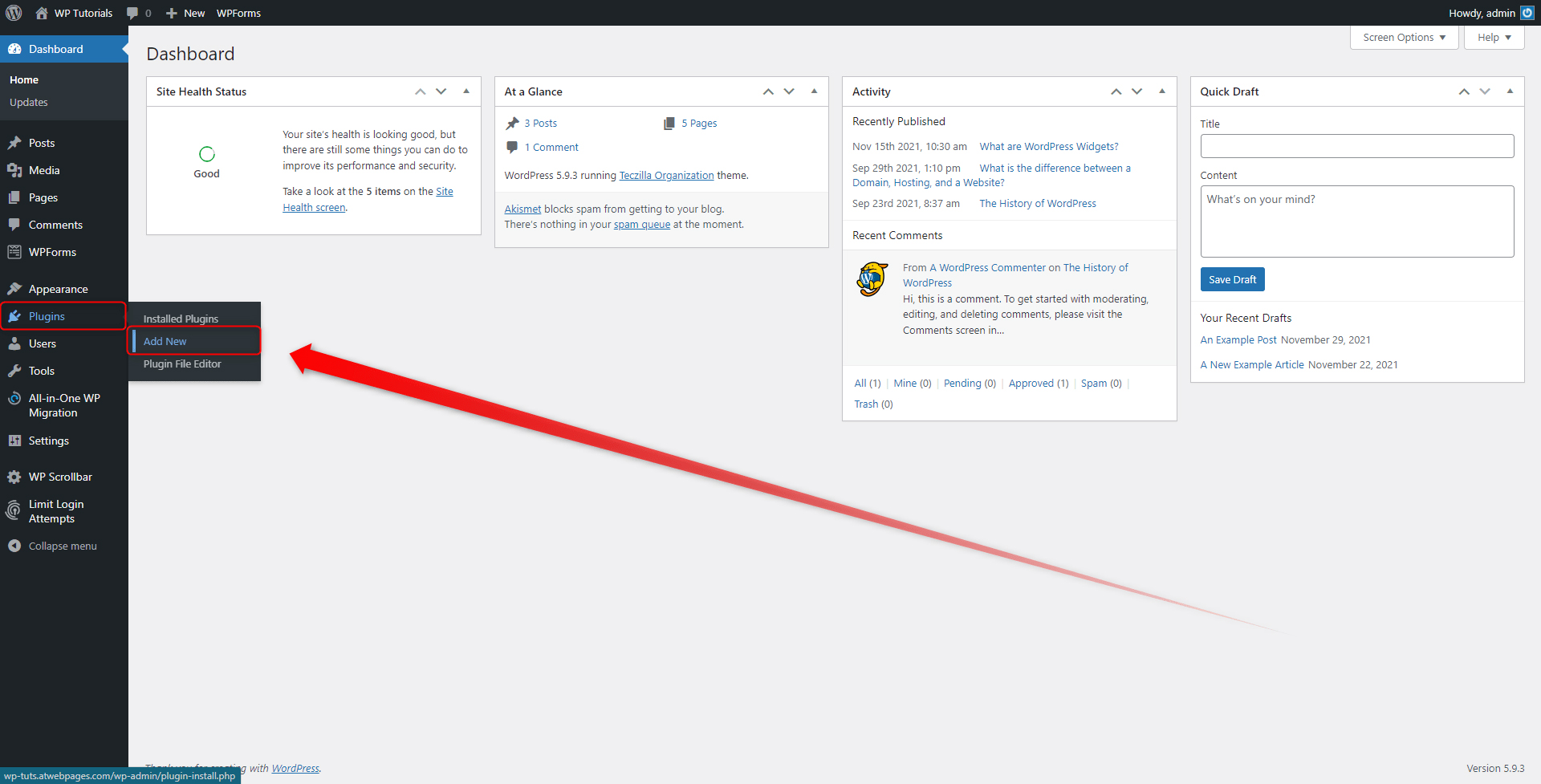 This will open the library with all the available plugins you can download and use in your WordPress: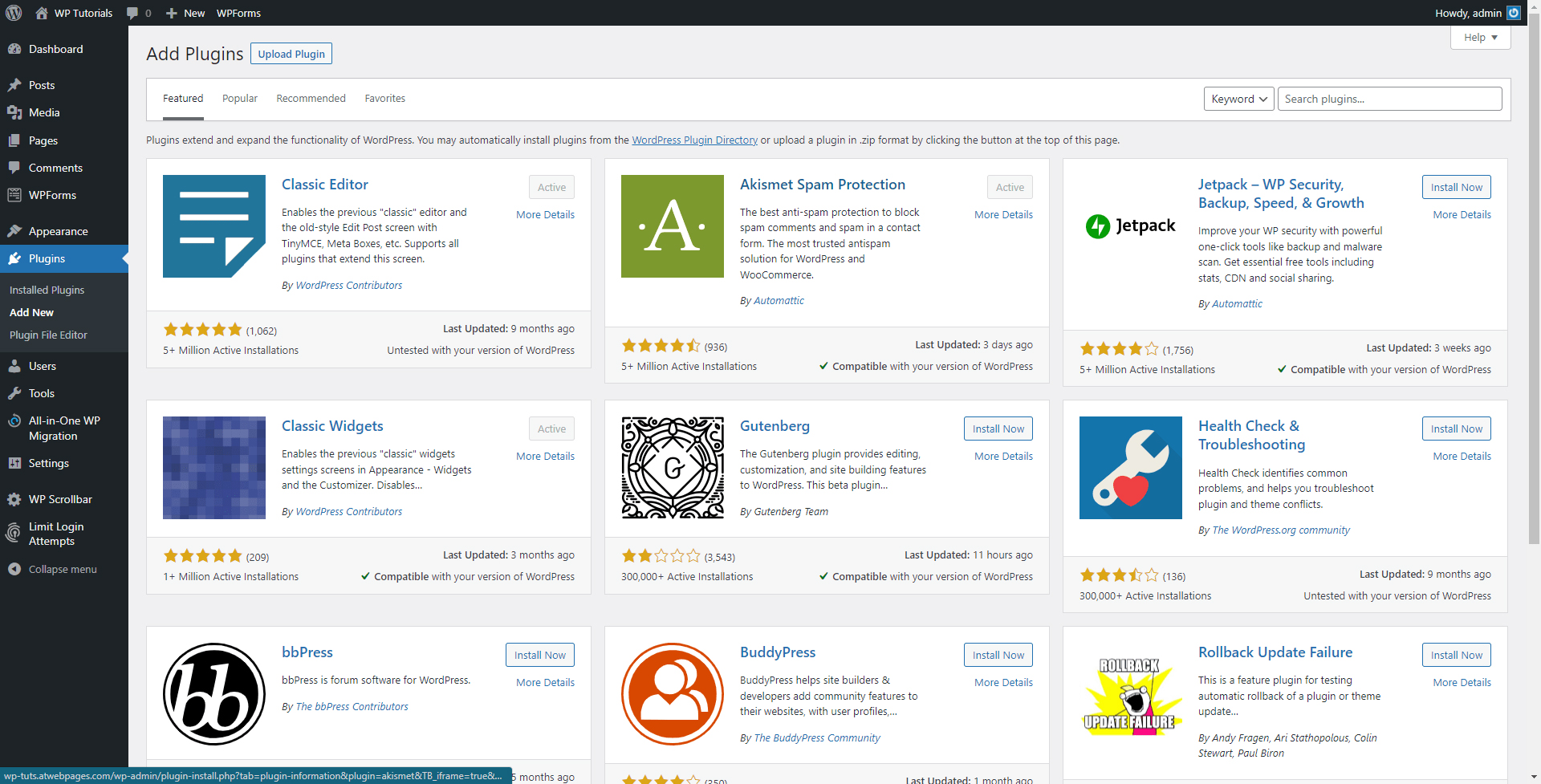 Step 2: Find a suitable plugin.
When it comes to the WordPress plugins, there's an ample choice of available options. So, spend your time and browse all the feasible ones until you find what you look for.
Two handy suggestions include:

This plugin is by far the most popular one. It is simple to use and offers many options such as:
Enables users to delete their accounts at any given time.
Asks for confirmation before deleting any information.
Can limit the account deletion option to certain user roles.
Can include an account deletion section anywhere you want.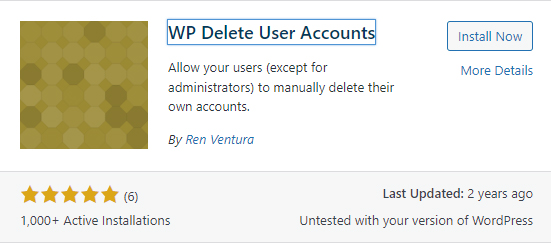 Another handy solution, this plugin adds a simple Delete My Account button to the bottom of every user's profile page. WP Delete User Account also offers many handy options such as:
Require confirmation prior to deleting any data.
Very simple to use.
For this demonstration, we will be using Delete me. When it comes to your website, however, you can use any plugin you find suitable for your personal needs.
Step 3: Install and Activate the Plugin
When you have chosen a suitable tool, simply click on the Install Now button at the top right of the presentation box: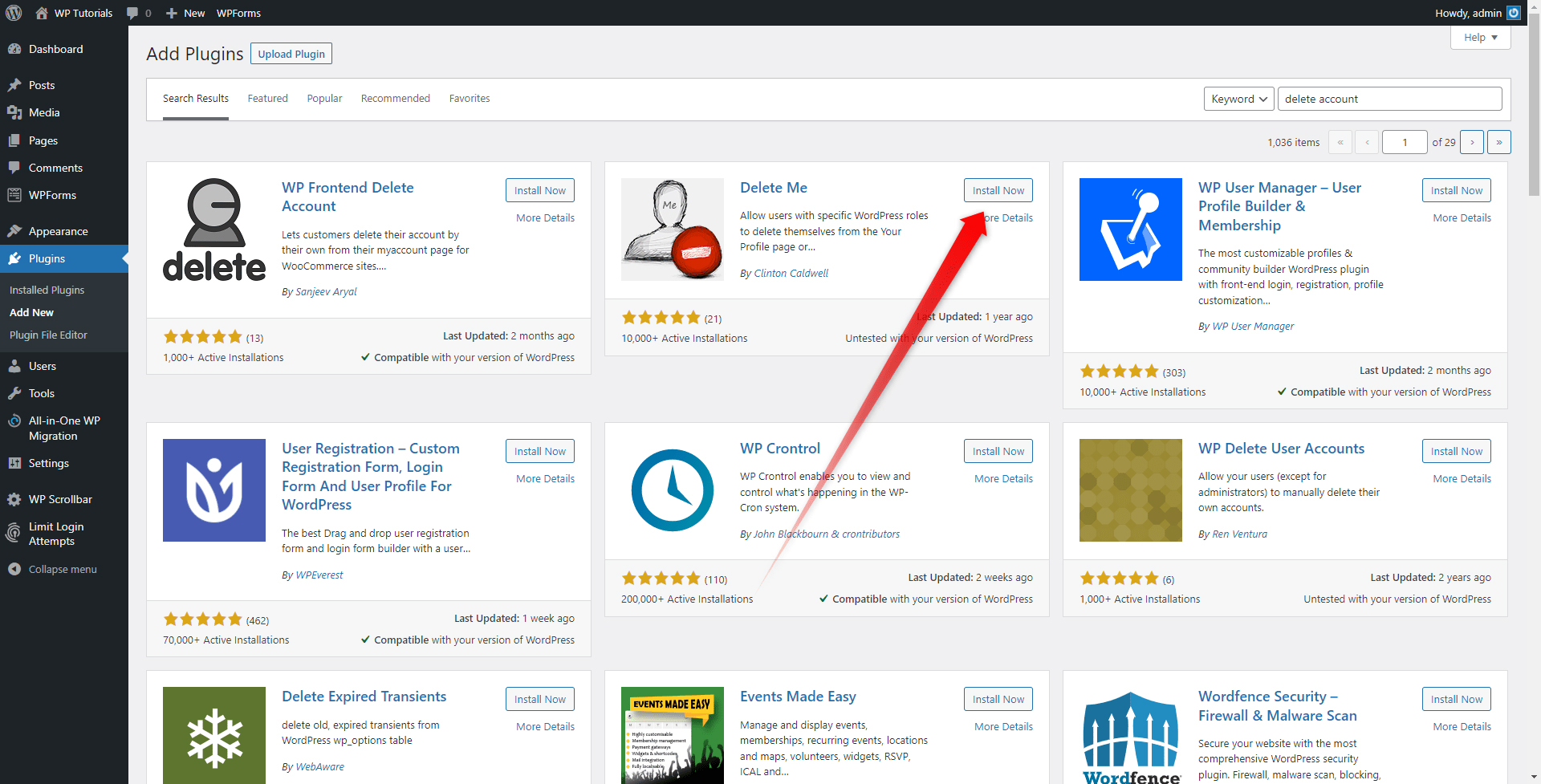 Once the process is finished, the button will turn into a blue Activate one. Click it: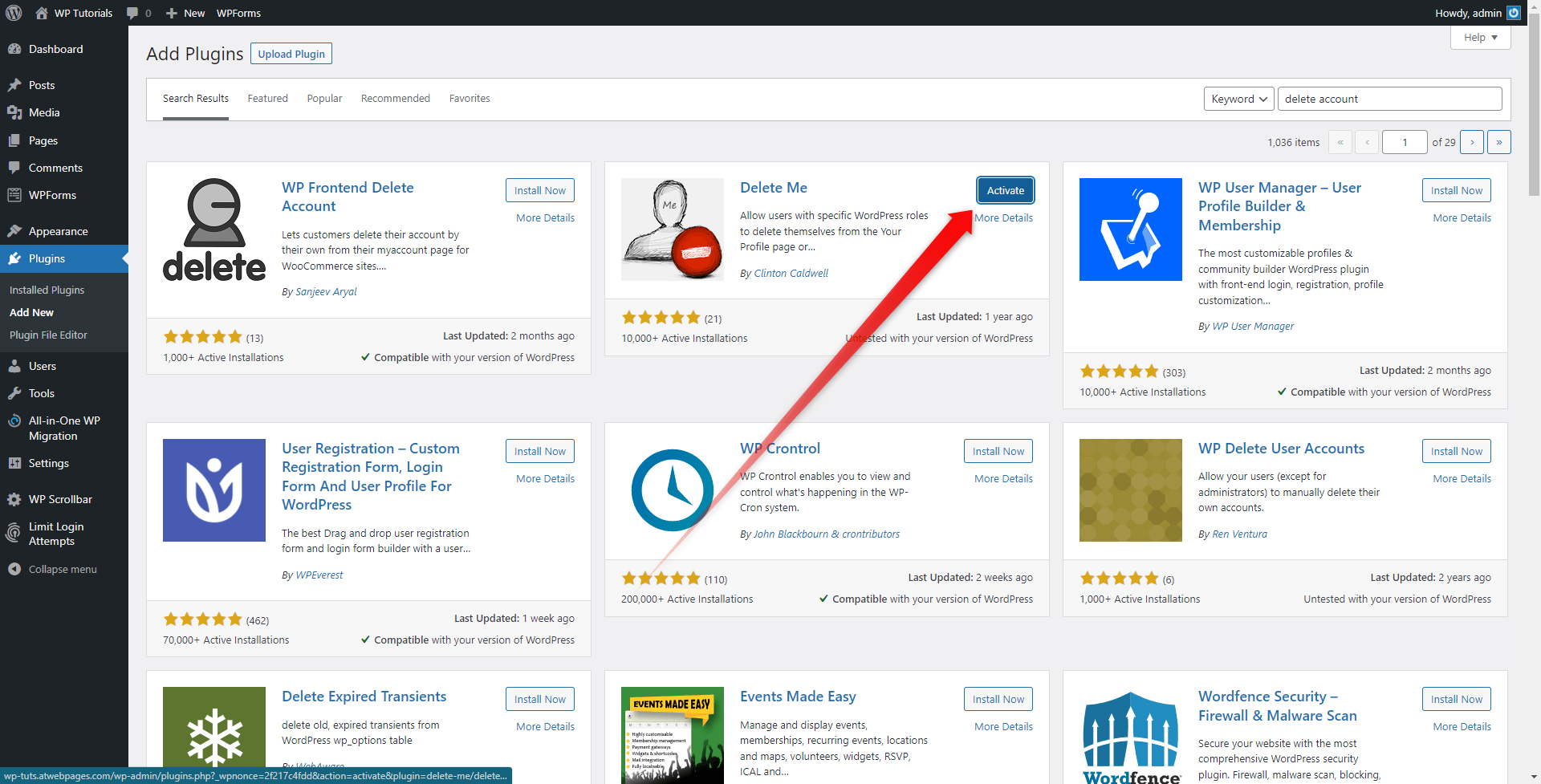 Step 4: Enter the Plugin's Settings Page
To make a proper setup to your liking, simply go to the settings page of the plugin you've just installed and activated: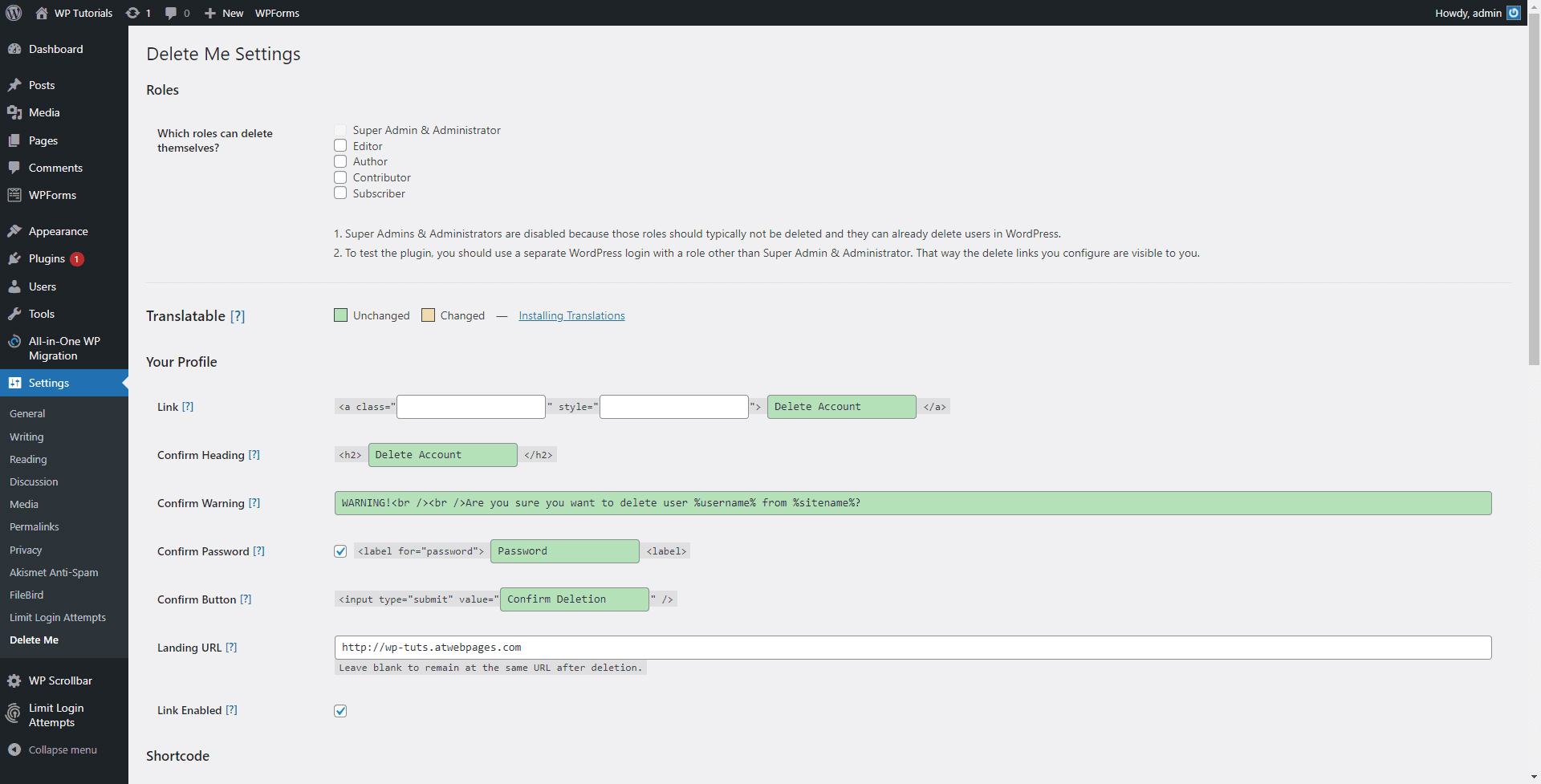 From this page, you can many settings and personalization. The plugin we used gives us some handy and neat options such as:
Choose which roles can delete their account.
Confirm heading text.
Confirm warning option and text.
Confirm password option and text.
Email notifications settings.
Adding code strings for enhanced personalization options.
Conclusion
Allowing users to delete their WordPress accounts is not only a useful option but also an important one. Including such a possibility for your WordPress website helps you build trust among your visitors, and also makes your pages compliant with certain mandatory regulations.
Although WordPress doesn't include a default account deletion, with only a few steps, you can add a simple and handy way of doing so.
Adding account deletion options to your website is only one of the many steps towards a safe and secure website. To unleash the full potential of online security, you should definitely check out our advanced data encryption SSL Certificates. Contact us and encrypt your data and ensure a reliable browsing experience for your online visitors!
Related: