Working with WordPress is simple. The platform is created to ease the site-building process and help you create a beautiful and functional website without the need to learn coding or any else programming skill.
To use WordPress, however, you must first install it. In the following paragraphs, you will learn how to do so with a few clicks here and there.
How to Install WordPress Using the Zacky Installer
You can execute the installation process via the dedicated Zacky App Installer, located in the ZETTAHOST hosting panel. To access the app, however, you should first register to any of our website hosting services. When you have done so, visit the ZETTAHOST site, and click on the green Login button at the top right: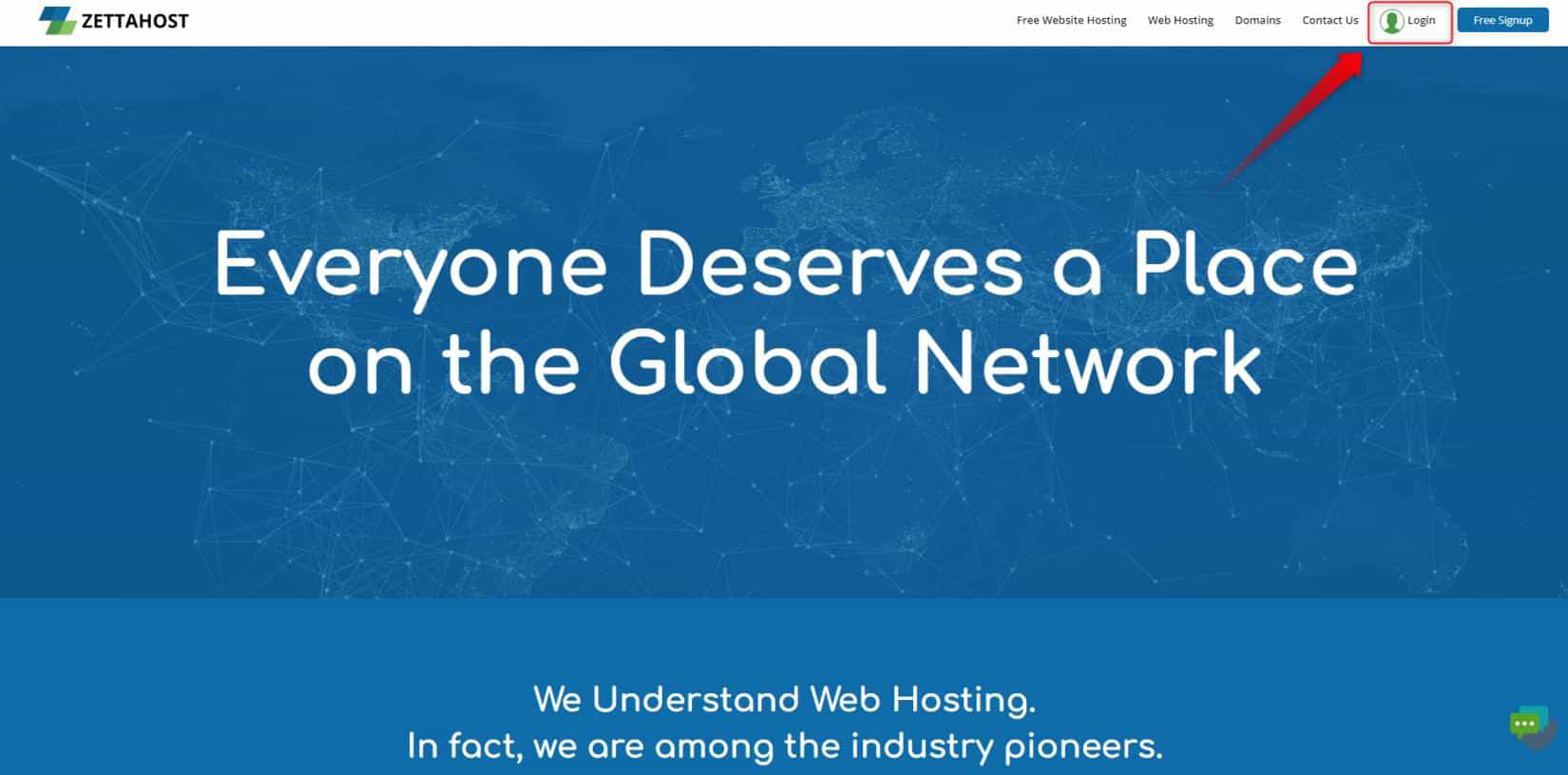 This will open the User Login page. Type in your ClienID and Password which you chose when registering to the hosting service and click Login: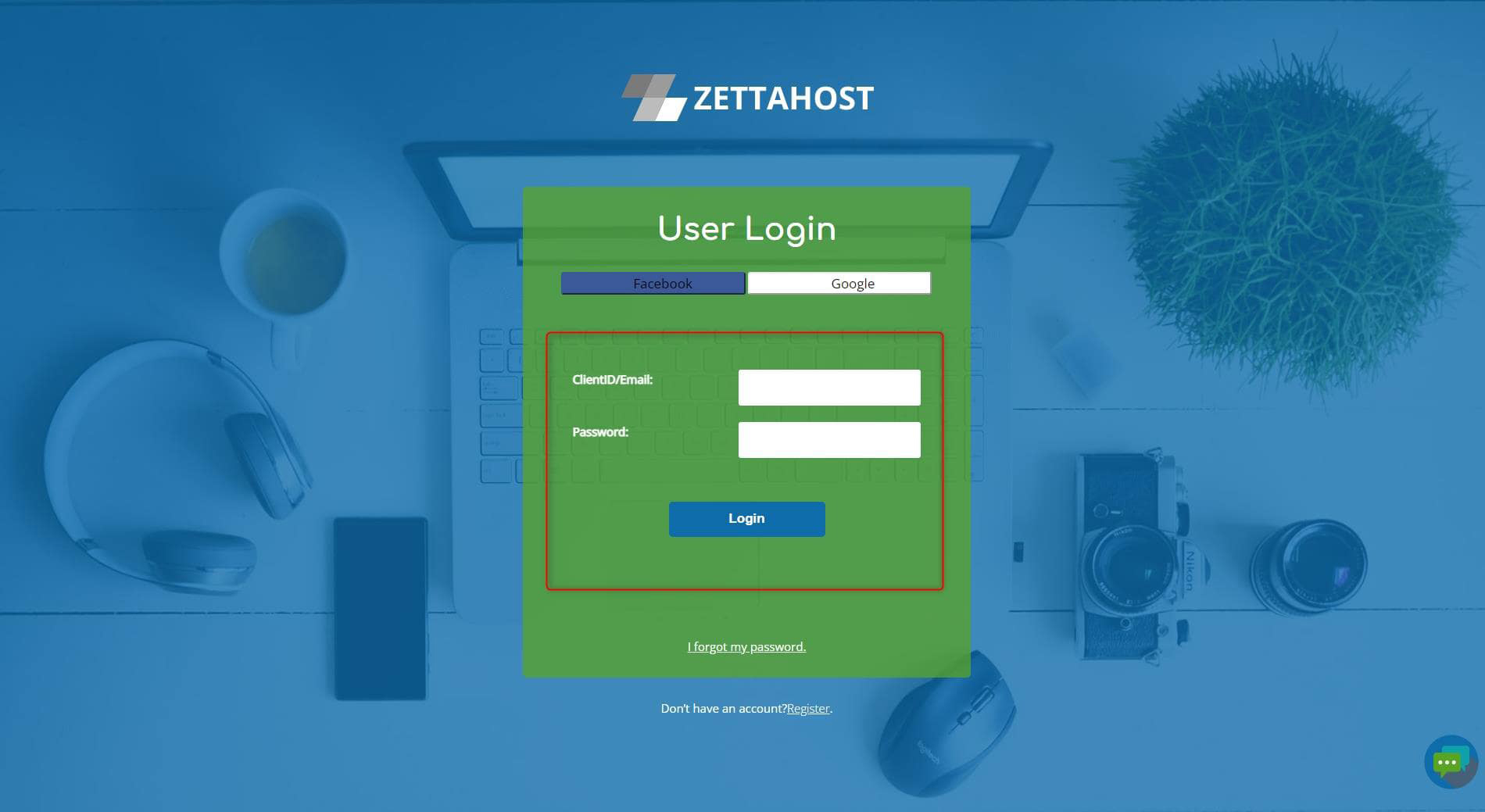 This will open the ZETTAHOST.com hosting panel: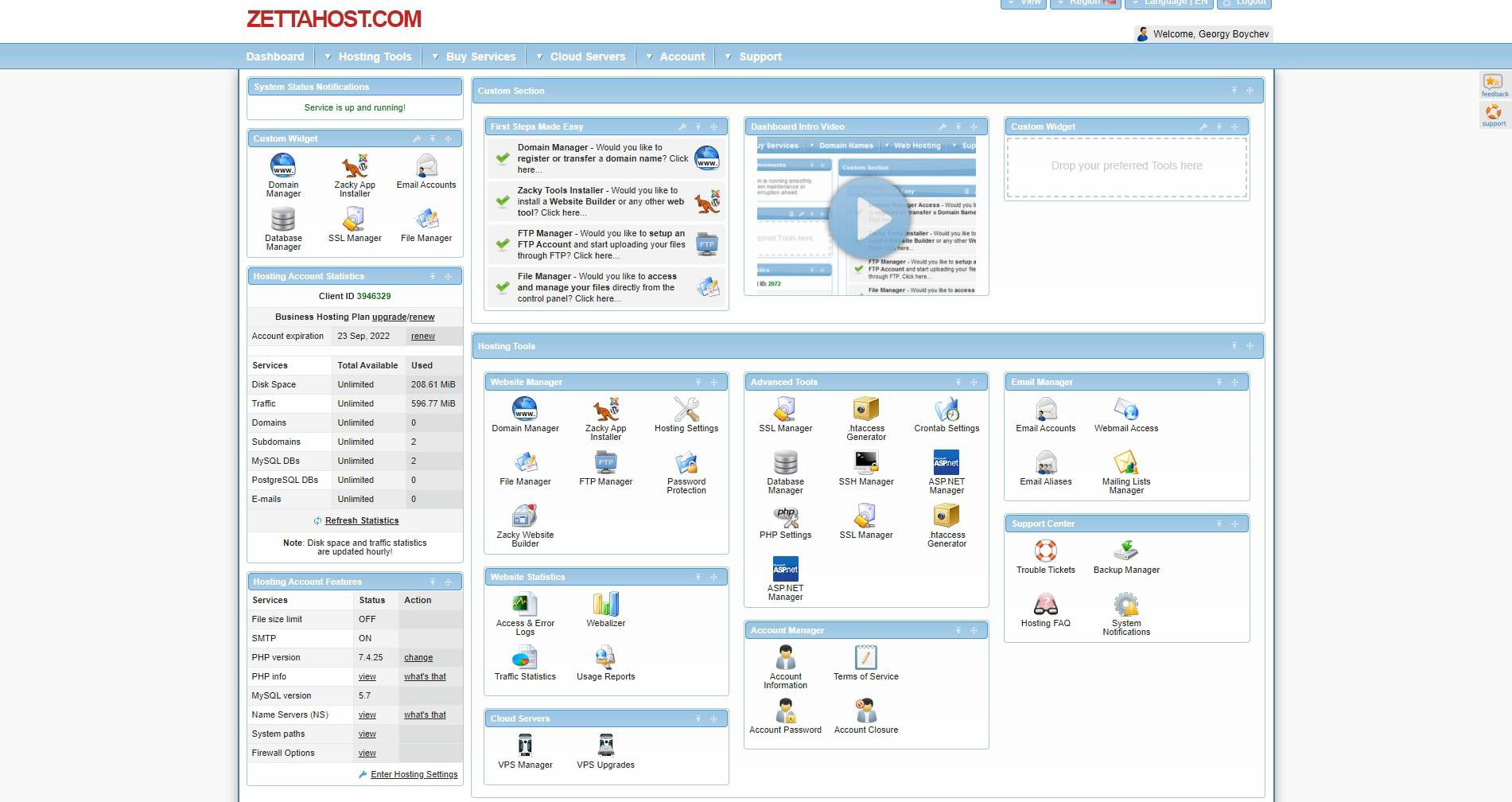 This is the place from which you can administer all aspects of your future site: you can manage your passwords, give access to different users, manage your database, manage your media library, as well as buy different services. Also, from here you will install WordPress. You can do so with the dedicated Zacky App Installer.
Zacky App Installer is software that allows you to install various CMS platforms on the server you've rented. When applying to ZETTAHOST hosting services, you get access to the tool and its simple and intuitive interface.
To locate the installer, first, find the large Hosting Tools box in the ZETTAHOST admin panel and within it look for the noticeably smaller Website Manager box. There you should see the Zacky App Installer icon: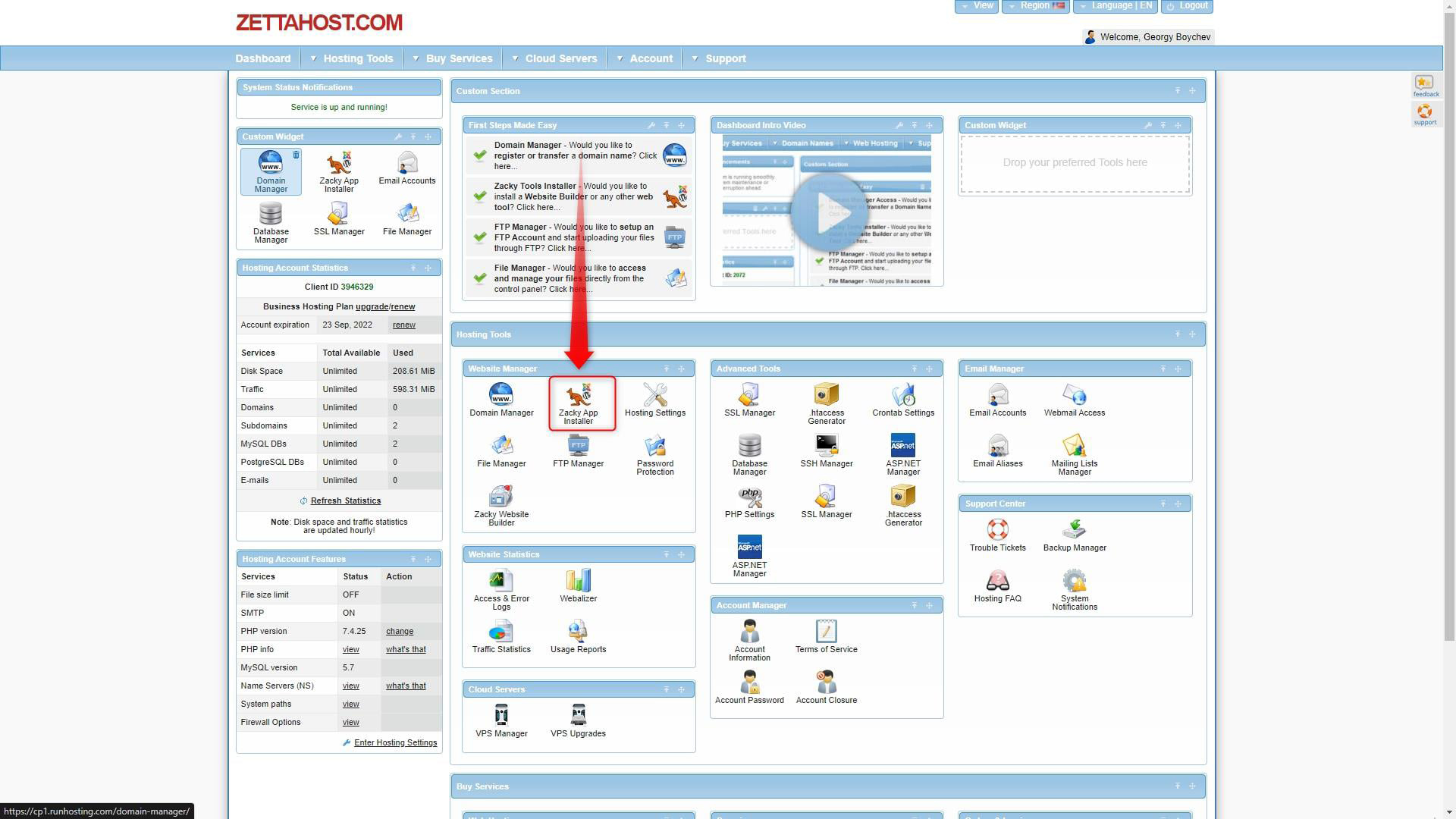 Click on the icon, to open the installation menu. You will see a list with all the installed software and a large Browse and Install Apps button. Click it in order to search for and install WordPress: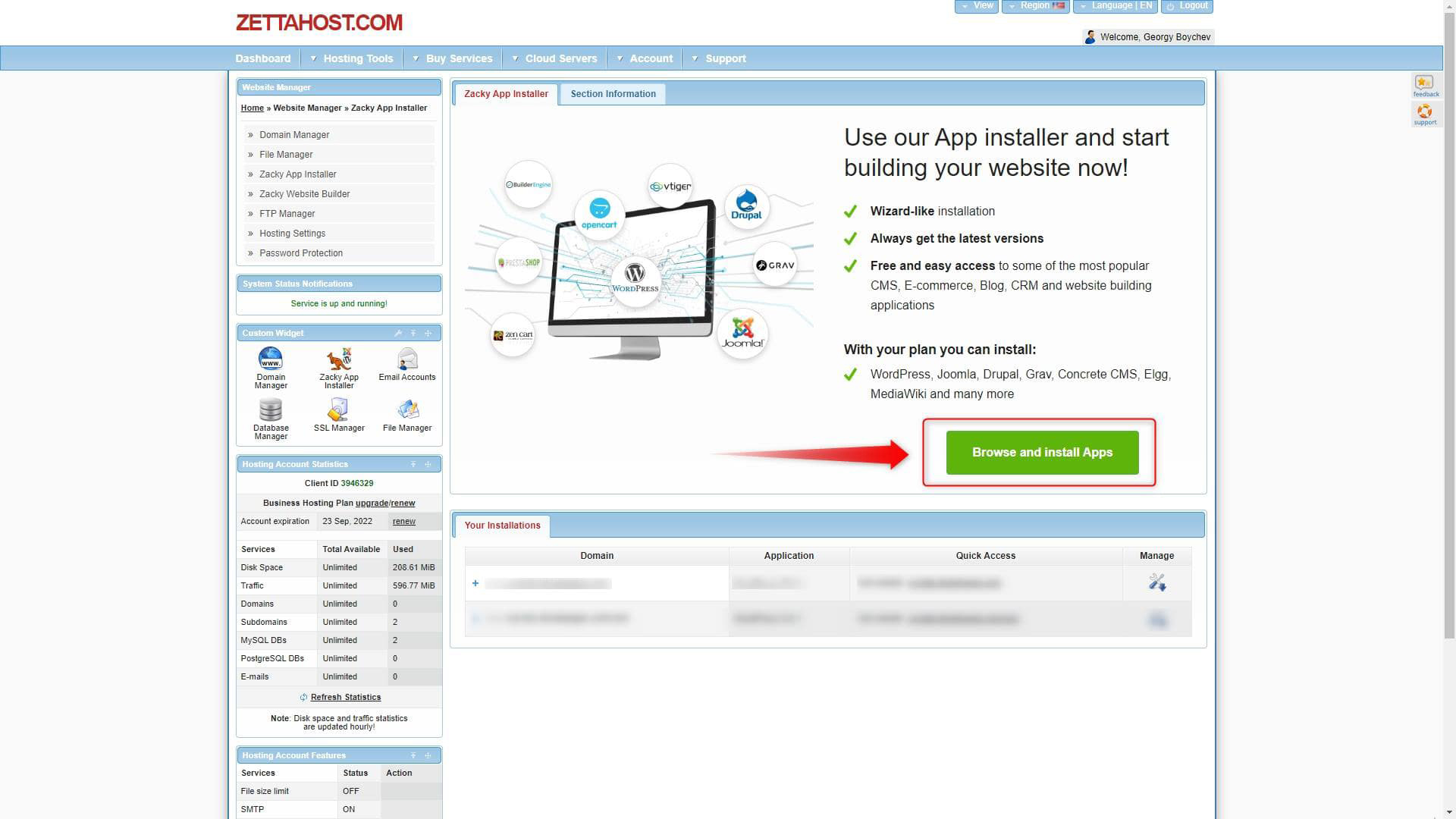 When you do so, a list with available platforms will appear: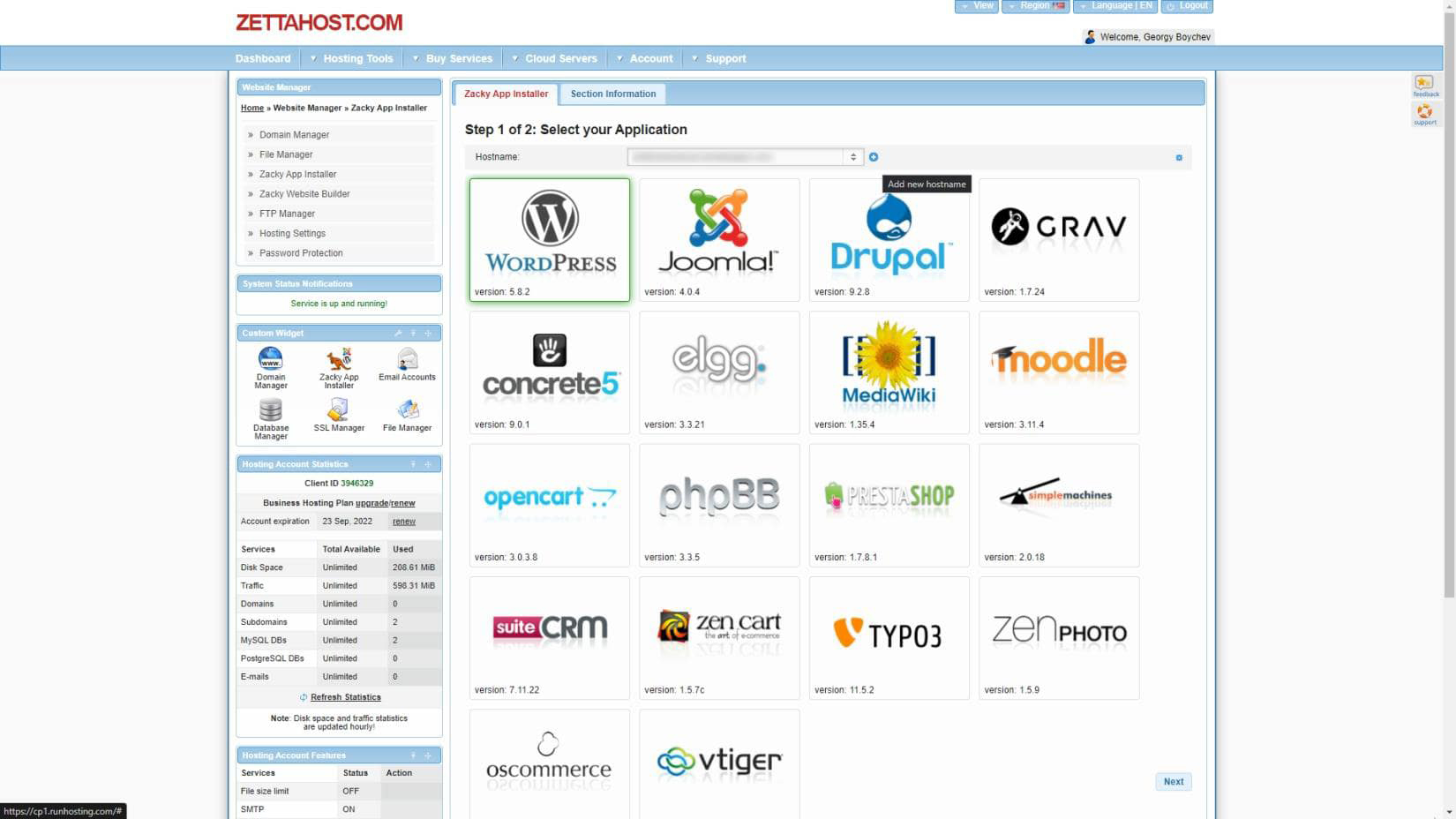 However, before you browse all the available platforms, it is important to include your preferred domain name in the system. By doing so, you will ensure that your new site will bear the domain name you have registered.
To do so, locate the Hostname area and click on the small plus icon: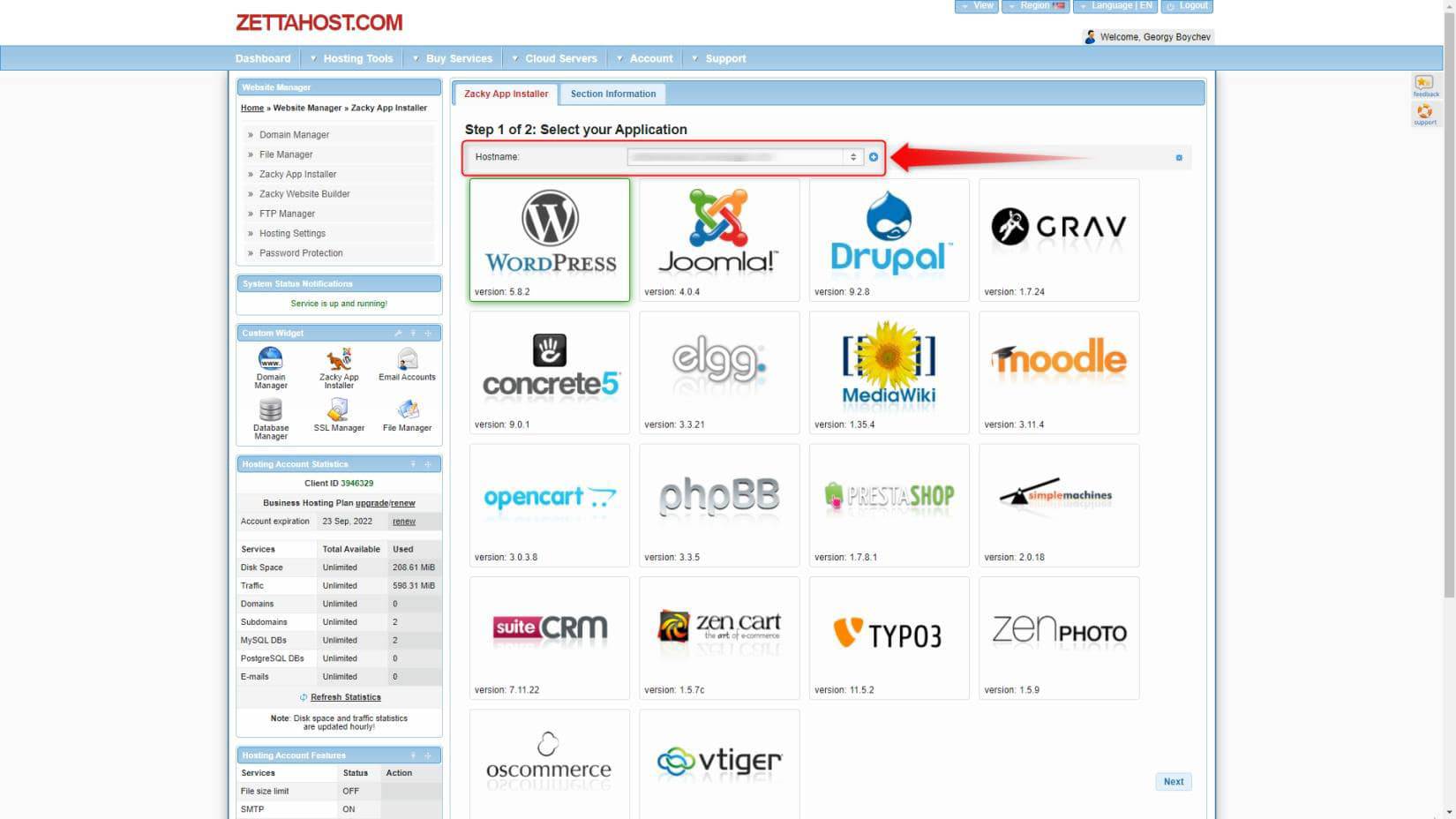 When you click it, a new menu with options will appear. Click on Host a Domain Name and enter your registered domain. Then click on Host Domain: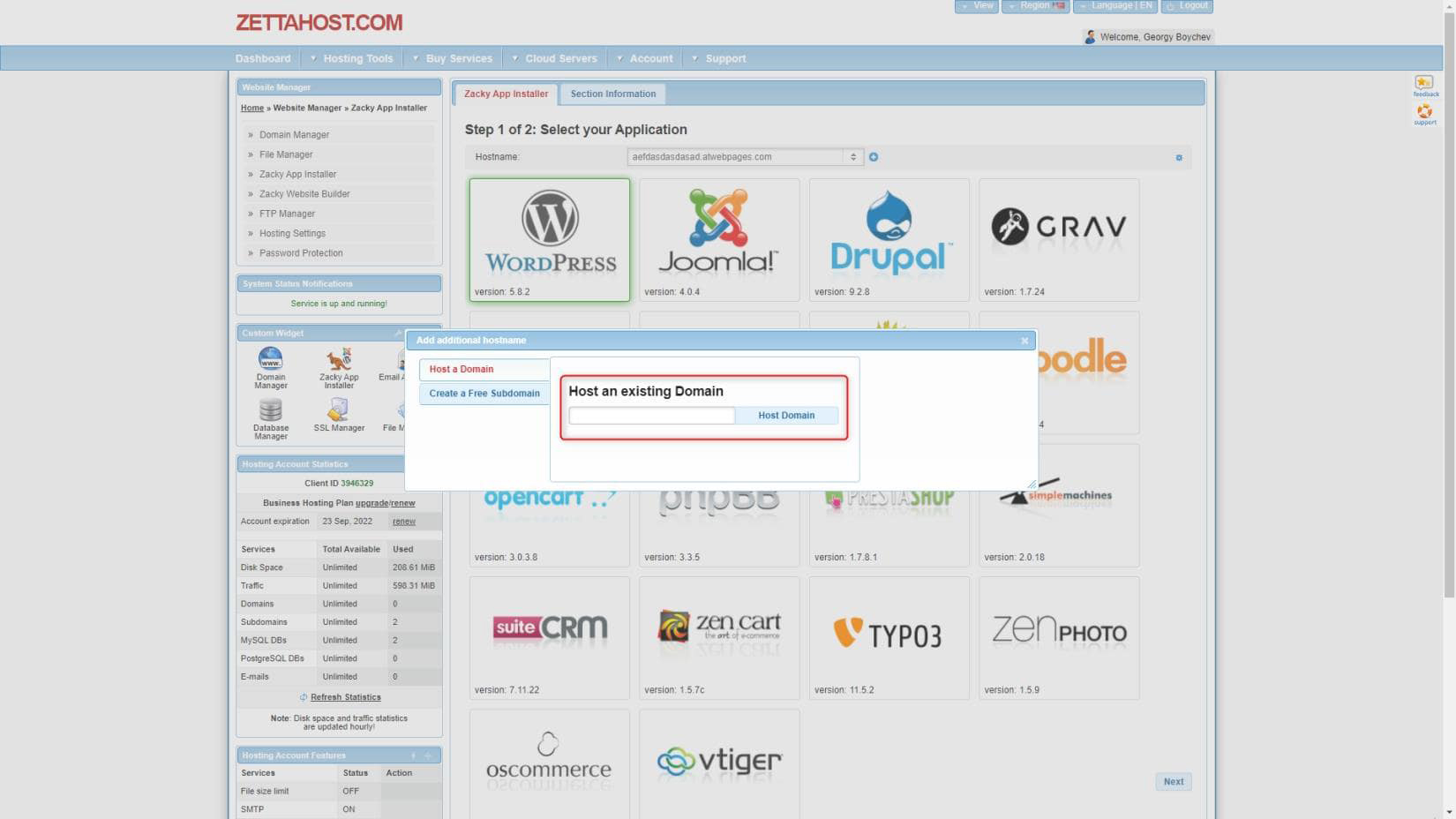 Once you've entered your domain name into the system, it is time to proceed with the installation of WordPress. While in the Zacky Installer menu, browse all the available applications, locate the WordPress icon, and click it: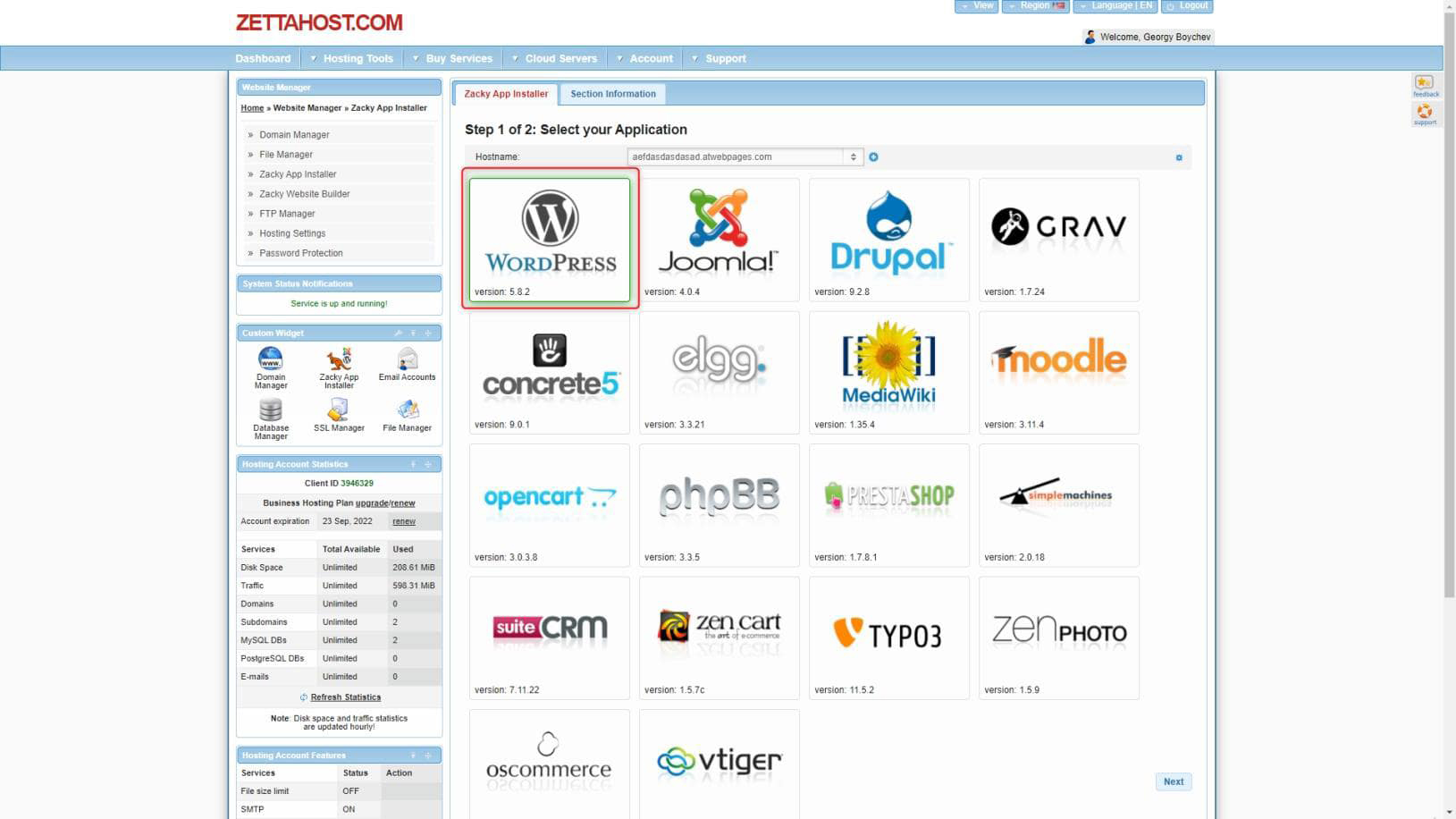 This will open a new dialogue box with instructions. Carefully follow them and add your preferred credentials, when it is required of you. This means to think of a WordPress admin username, a WordPress password, and an admin email address. This step is very important, as it creates the login details with which you will work with WordPress: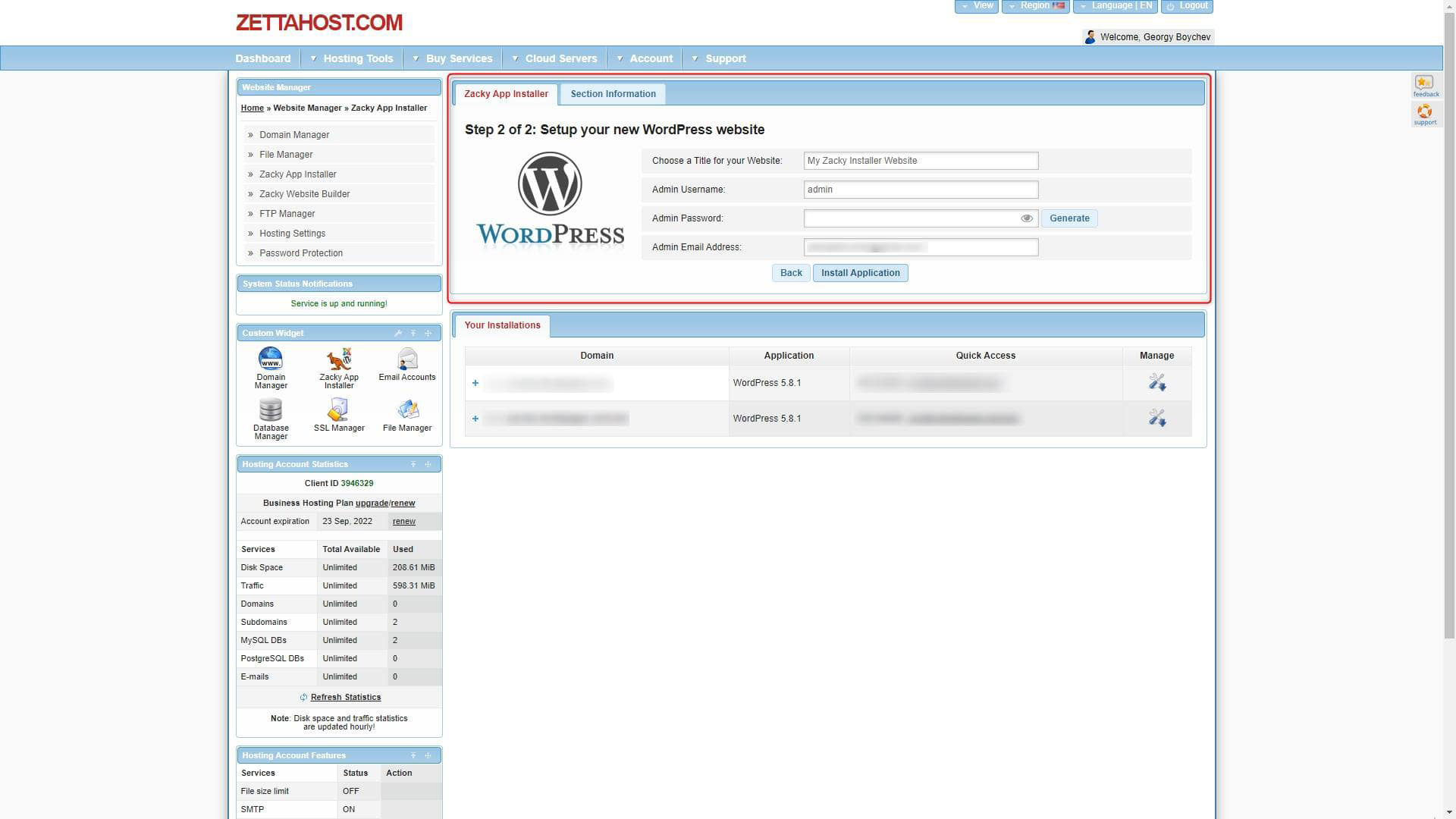 Note! Your ZETTAHOST.com login details are different from the WordPress Admin Panel login details!
When you have entered everything required of you, click on Install Application and wait until Zacky Installer completes the process. Then you will be redirected to a tab with two links to access your site and your WordPress admin panel, as well as a list of all the installed software via Zackly Installer: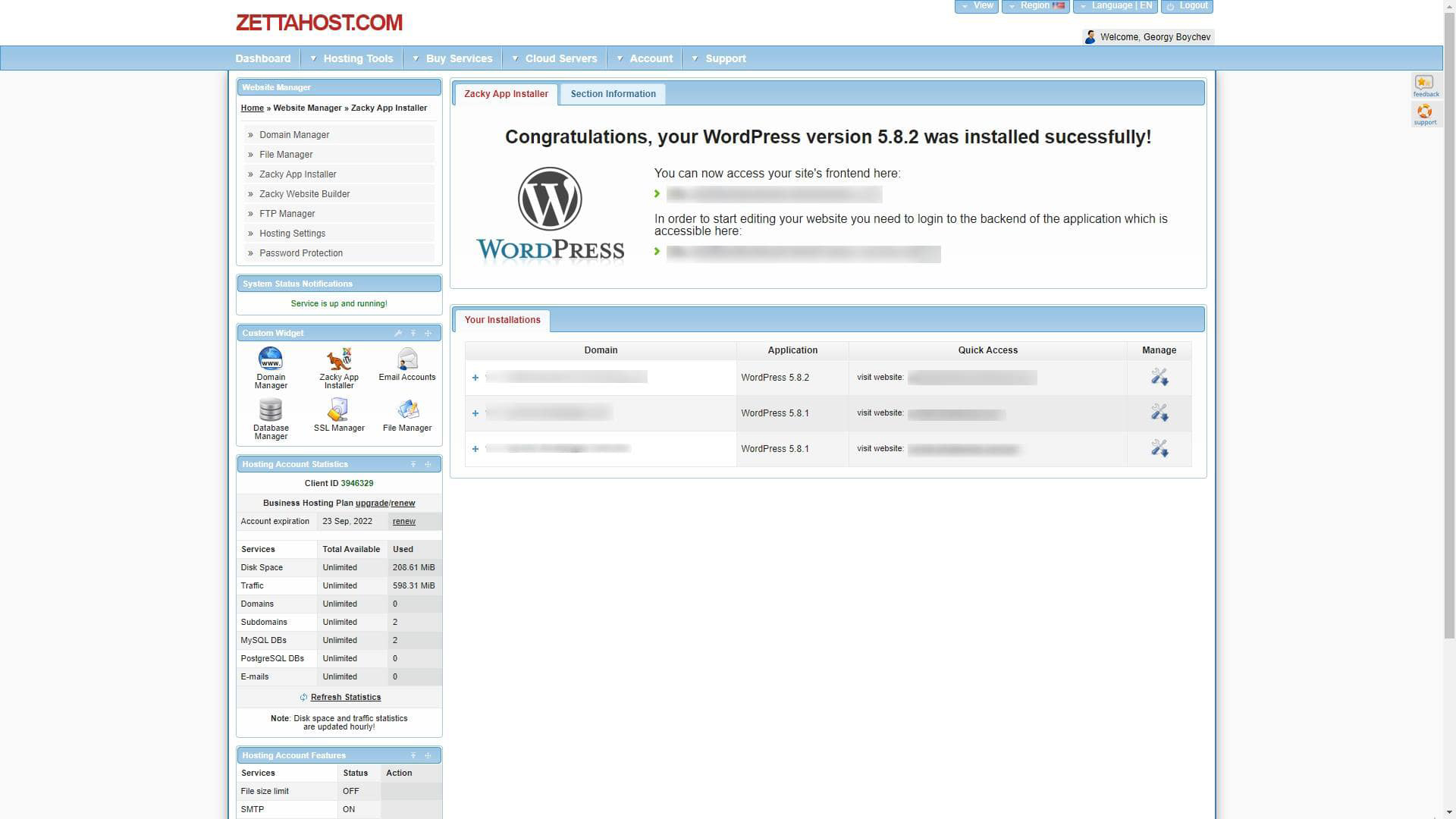 Note! You will also receive an email at the address you typed down when installing WordPress. Read it carefully, as it contains important information about your site, and save it for future reference.
Congratulations! You have successfully installed WordPress with Zacky App Installer and you can start building your website!
Enhance Your Online Presence With ZETTAHOST
If you wish to build a brand-new and beautiful site, or simply search for new ways of expanding your business, then check out the ZETTAHOST services – we offer a wide range of services such as WordPress Hosting, and Shared Web Hosting, domain registration, data encryption with SSL Certificates, and many more. For more information, contact us, and let us be your partners in the online world!
Also, if you wish to learn the WordPress fundamentals, do so with our step-by-step guide that explains everything about the platform.