The WordPress favicon (short for "favorite icon"), a.k.a. the site icon is a small image icon that represents a particular website. It can be seen in the permalink area, on the opened browser tabs, on bookmarks, on the home screens of a mobile device, and in all other different places. Favicons are prevalent in contemporary sites, because of how handy they are for both website owners and website visitors: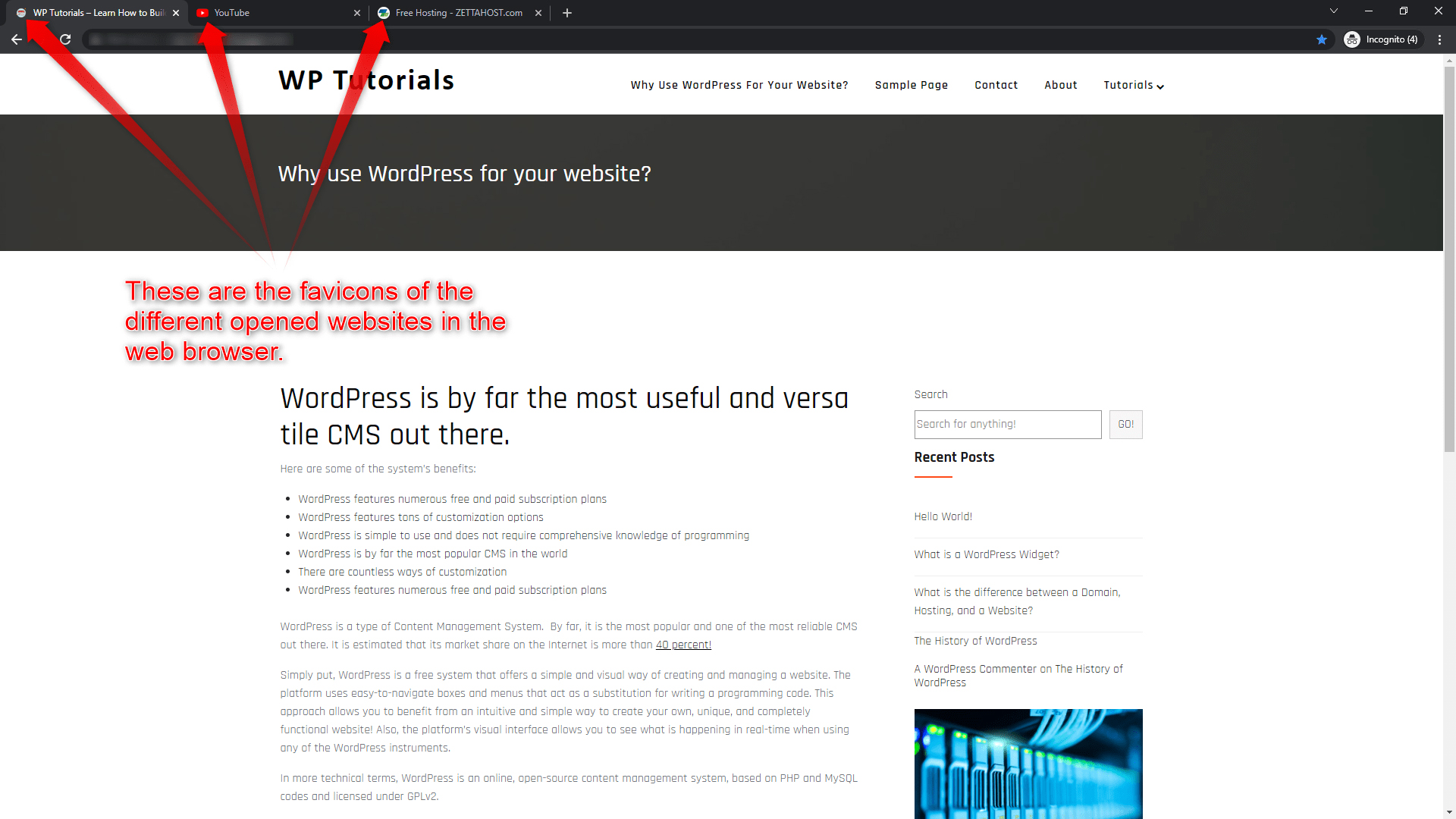 Why are WordPress Favicons Important?
Although small in size, WordPress favicons are an integral component of every website and contribute to three fundamental website functions:
WordPress favicons improve brand recognition. A well-recognizable brand icon is widely used by businesses to boost customer confidence when it comes to browsing and sales conversions.
WordPress favicons improve the user experience. Including favicons in your site will make it appear more professional and credible, thus boosting the overall rewarding user experience of your visitors.
WordPress favicons contribute to a more consistent browsing experience. Placing the small representative icons on key areas ensures that your visitors will interact with your brand more efficiently. Also, favicons ensure a concise browsing experience regardless of the user device – a laptop, a tabled, or a smartphone.
Create a WordPress Website With ZETTAHOST Ultimate Guide
Not sure where to start your WordPress journey? Then do so with our free and step-by-step WordPress guide, which explains everything about the platform:
ZETTAHOST Free Website Hosting
If you are yet to start building your first website but are not sure what to do first, then check our free hosting services and create your free account!
Conclusion: What is a WordPress Favicon
The purpose of websites is to share content with online visitors. The main way of doing so is by including different kinds of texts on your pages. However, as the World Wide Web evolves, so do the types of sites and their content. Also, depending on what you want to achieve, your type of content will vary and it is highly likely that you will oftentimes blend text with media files for more impact.
In fact, adding media items such as images and videos to your pages is a great way to make your message more easily assimilated to your site visitors and way more aesthetically appealing compared to the blank text field, regardless of how fitting the WordPress theme you have applied is.
Such images can be included in different places on your site and thus fill in a dedicated role and aim at different goals. One such image is the favicon. This is a small icon appearing within the website tab in a given browser.
Although small in size, favicons are especially effective for enhancing your online presence and contribute to more traffic and even more conversions. In the following paragraphs, you will learn what a WordPress favicon is in detail and how to use it on your website.
Furthermore, a website without a dedicated icon can be considered greatly unappealing, or even being avoided for the sole purpose of missing such a small detail. Therefore, you should add a favicon as soon as you install WordPress and start your site-building project.
Mentioning the installation of WordPress, here is a full list of things that you should do right after you install the platform.
Related: