Permalinks are a fundamental part of each and every web page across the Internet. We've already discussed what permalinks are and now it is time to delve deeper into the topic.
Along with being the main means of sharing web content, permalinks can also give a glimpse of what the page they lead to is all about and when used correctly, can add a neat kick in SEO.
In fact, when creating a WordPress website, one of the most important things you should do is change the structure of the links, so they become more effective for you, the search engines, and your visitors. Let's see how to do so.
How to Change the Structure of the WordPress Permalinks
First, you should enter the page from which you can manage your permalinks. To open it, through the WordPress Dashboard (a.k.a. the Admin Panel) go to Settings->Permalinks: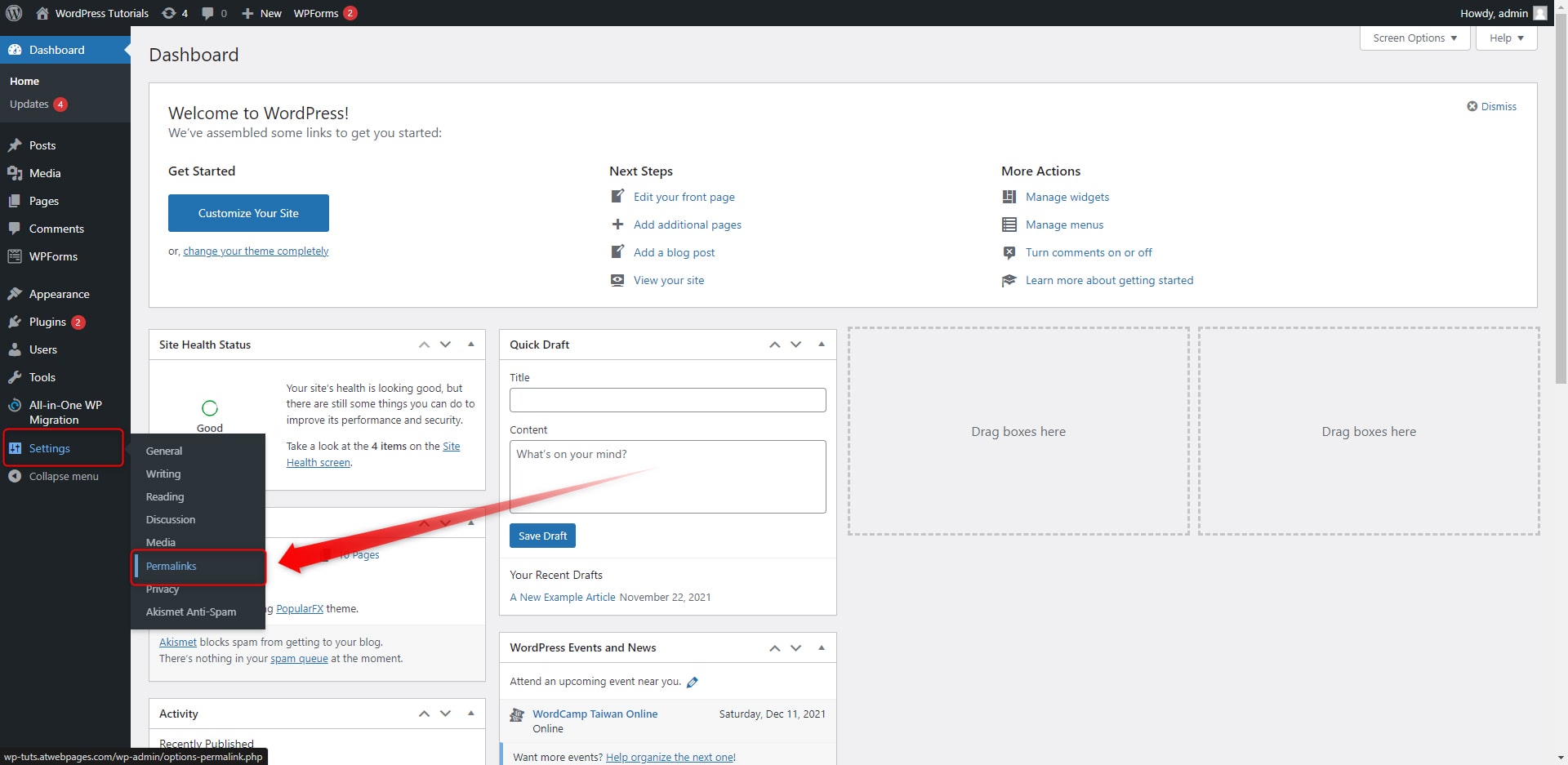 When you enter the Permalinks page, notice that WordPress offers some pre-built custom structures, and also allows you to create a fully customized permalink structure: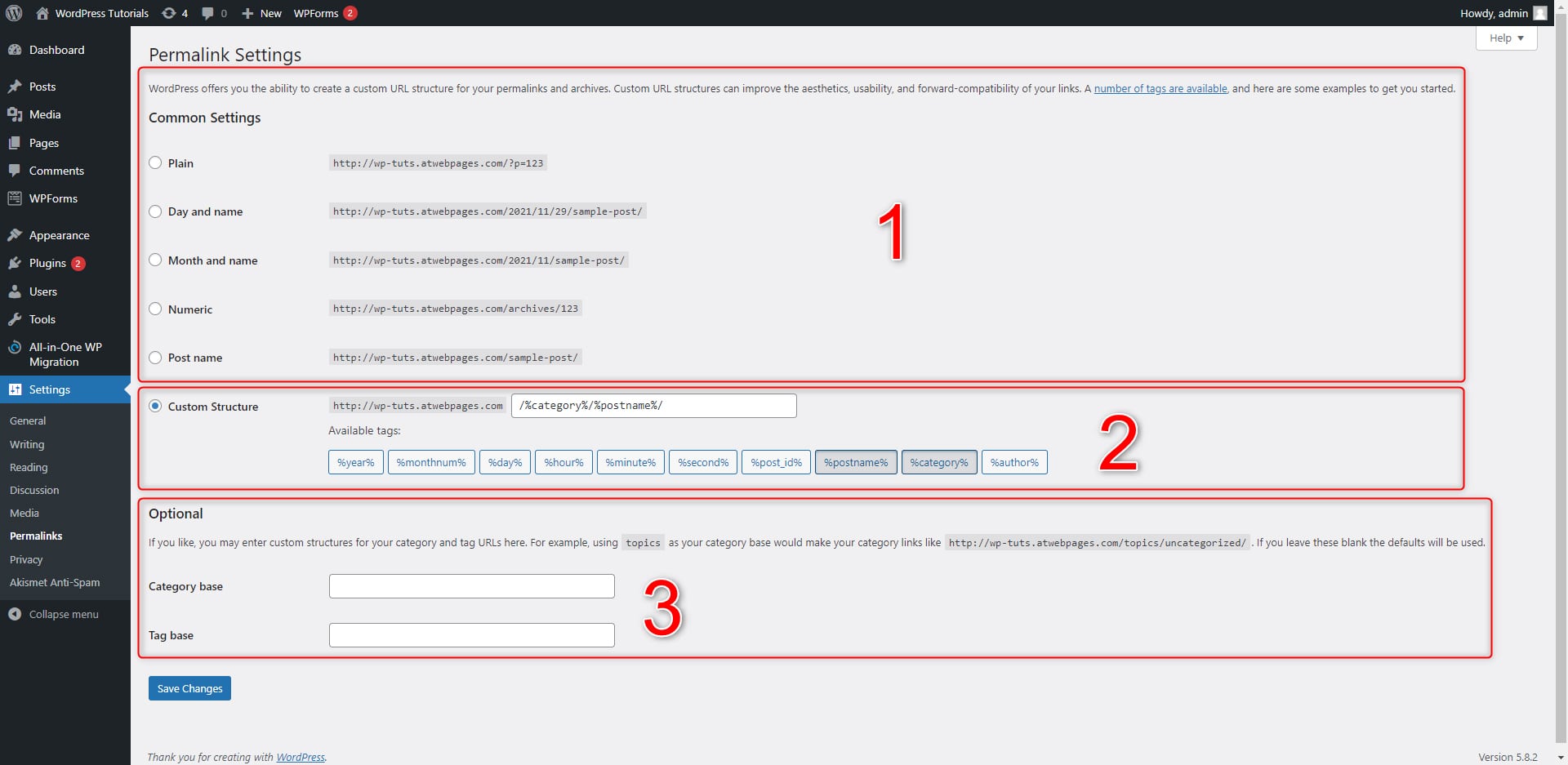 In Box 1 you can see the pre-made options. Depending on your goals and type of site and content, almost all structures can be useful. Usually, the most unpopular ones are Plain and Numeric, because they do not grant any information about where the link leads to.
As it comes to the rest of the options, they are useful in plenty of situations:
Day and Name and Month and Name: these are useful structures when it comes to time-bound content such as news blogs. Because they show the precise time an article is published, it makes it easier for your visitors to browse and sort out information on your site. If you are relying on ever-green articles, however, it is advisable to avoid these two structures.
Post Title: this is one of the most prevalent WordPress permalink structures. What it does is add your article name as a slug in the permalink. It is very useful, because of how practical it is: the Post Title structure doesn't include anything else except your article's title – any numbers, dates, and categories are excluded from the permalink. Once again, this structure is useful for online blogs, as it tells exactly what kind of article your visitors are about to open.
In Box 2, you can see all the options for customizing your permalinks. The area is comprised of two segments – one from which you can see and type down which element you wish to include in your permalink, and a second one, which contains a list of different suggestions – with a single click you can include or exclude elements such as year, month, day, post name, category, author and others. This entire area allows you to create the most suitable permalink structure for your site.
For example, in the context of an online blog, it is quite popular for site owners to include categories and article names in their permalinks.
This would mean that the custom structure might well look like this in the Dashboard:

This will result in this type of permalink:
Example.com/European-vehicles/German-vehicles/Porsche/2022-Porsche-Panamera
Notice that this example contains the website's domain name, and then categories and sub-categories, and at the end, the slug is comprised of the article which is contained in all these categories. This is a perfect structure for a review-focused blog.
In Box 3, you can see what kind of options you can use to sort your permalinks with your categories and tags in mind. When using this method, you will include one more segment to your permalink – a category base that will appear before your category names and a tag base, which will appear before the tags in your URLs.
For example, if you use "Articles" as your category base and "Cars" as a tag base, your permalinks will change to something like this:
Example.com/Articles/European-vehicles/German-vehicles/Porsche/2019-Porsche-Panamera
WordPress Permalinks and SEO
By far, you should have noticed that we have mentioned the SEO impact of the WordPress Permalinks. This is because the main reason to customize your URLs is the great kick this gives to ranking your pages higher in the search engine result pages, along with enhancing the overall user experience. Usually, the idea of publishing a website to the World Wide Web is to get as much traffic (visitors) as possible, and benefit from every single SEO technique is advisable. This is why we focus so much attention on SEO-friendly permalinks.
Here are two factors that you should abide by when creating your custom links:
Relevancy: including a keyword (or an entire keyphrase) in the permalink and slug helps search engines prioritize your entire site and move it up in the suggested list of sites.
User Experience: a well-structured link makes it easier for visitors to understand the content of a certain page. This can contribute to greater traffic toward your pages.
Linkbuilding: When you share links to your pages on different sites, the indexing algorithm gives an advantage to easily eligible and keyword-based permalinks.
For optimal results, you should also edit your permalink slug component. Also, you should know how to insert links to your posts.
Conclusion
When it comes to the structure of the WordPress Permalinks, the default one is quite ambiguous. When you create a new page for your website, WordPress automatically generates a dedicated permalink. it looks like this:
Examplewebsite.com/?p=698
Although this string of words and symbols is completely understandable by Internet browsers, it won't make sense for both your site visitors and the search engines:
it is impossible for your visitors to get an insight into where this permalink leads to. This is an issue because the harder it is for people to understand where a particular link leads to, the more inconvenient their browsing experience becomes and thus, noticeably lowering their chances of entering your site.
With such a permalink structure appears a second issue –it is bad for SEO, because search engines, similar to people, cannot properly "read" where the link leads to. This is an issue because search engines rank pages with such a permalink structure lower in the search results, which will significantly reduce the number of potential visitors to your site.
Fortunately, WordPress allows you to customize your permalink structure in many ways, so you can create strings of links that make perfect sense for Internet browsers,  your potential visitors, and search engines.
Related: